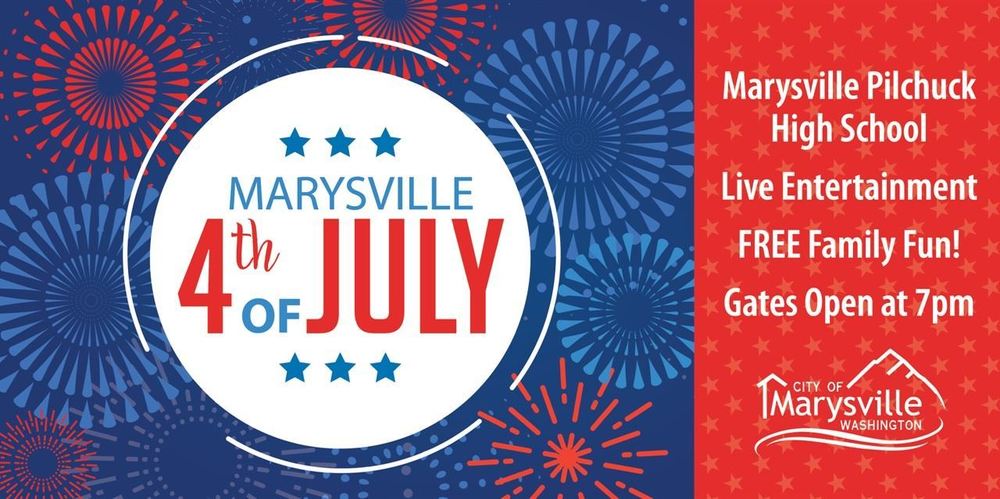 ​It's a blast! Plan now to attend Marysville 4th of July
City of Marysville
Friday, June 28, 2019
Marysville-area residents and families no longer need to leave town to enjoy a professional Independence Day fireworks show. New this year, the City of Marysville presents a family-friendly 4th of July program at Marysville Pilchuck High School.
Gates open at 7 p.m. Thursday, July 4, with lawn games, fun activities and live music until dark, followed by a professional fireworks show choreographed to music starting about 9:45 p.m.
Admission is free; bring cash to buy snacks and desserts from Marysville Kiwanis and WhistleStop Sweet Shop. Bring blankets and lawn chairs for seating.
No pets or personal fireworks including sparklers*, please. Alcohol, tobacco and vaping are not allowed on school property, including parking areas.
*Except for authorized public displays or as permitted by the Marysville Fire Marshal, it is illegal to have, use, sell, trade or discharge fireworks within Marysville city limits. The fine for discharging consumer fireworks is $513. Selling consumer fireworks or using display or dangerous fireworks are crimes that can result in jail time and more substantial fines. [Marysville Municipal Code Chapter 9.20]
*This is not a Marysville School District Event.