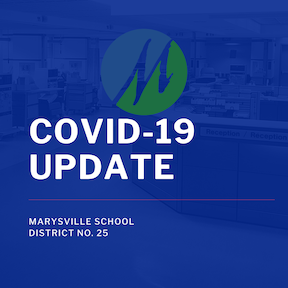 MSD Update, March 4, 2020
Marysville School District
Wednesday, March 04, 2020
COVID-19 Daily Update: March 4, 2020
We are continuing to monitor emerging information about the Coronavirus (COVID-19) issue. The Snohomish County Public Health department declared a public health emergency in the county to release additional resources to combat the spread of the virus in our community. We do not have any new presumptive positive (confirmed by health officials) or confirmed cases (by the CDC) in our district, but we will continue to monitor and adjust as new information is received. We will also be continuing daily updates on this issue for the foreseeable future.
We also received further guidance from the Office of the Superintendent of Public Instruction around absences related to COVID-19 safety concerns. State law excuses absences due to student safety concerns as well as absences due to illness, health condition, or medical appointment (Washington Administrative Code [WAC] 392-401-020).
Absences due to a child having a cold or flu symptoms or parent / guardian concerns related to COVID-19 will be excused absences.
To help prevent the spread of this and other viral or bacterial infections, follow these guidelines:
Avoid close contact with people who are sick.

Avoid touching your eyes, nose, and mouth.

Stay home when you are sick.

Cover your cough or sneeze with a tissue, then throw the tissue in the trash.

Wash your hands often with soap and water for at least 20 seconds, especially after going to the bathroom; before eating; and after blowing your nose, coughing, or sneezing.
Again, we will continue to monitor this rapidly evolving health concern and encourage everyone to use the universal health precautions listed above to help prevent the potential spread. Please know our schools and operations staff are taking measures to disinfect frequently touched surfaces on a regular basis including our school buses.