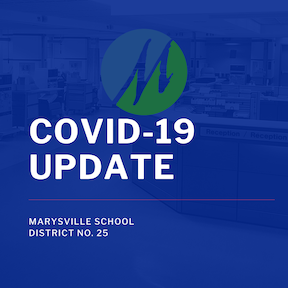 MSD COVID-19 Update #2, March 11, 2020
Marysville School District
Wednesday, March 11, 2020
MARYSVILLE SCHOOLS TO CLOSE: PLEASE READ
Schools in the Marysville School District will be closed beginning Friday, March 13.
Dear Marysville School District Families and Staff,
The COVID-19 issue in our county, region, and state continues to develop. While the district has been contingency planning for the past several weeks around new developments, we are entering a new phase of this public health emergency. This morning Governor Inslee held a news conference announcing mandatory requirements to combat the spread of COVID-19 in our state. This afternoon Governor Inslee also held a conference call with superintendents from King, Pierce, and Snohomish Counties and added more clarity to the developing picture in our region.
What did the Governor require?
The first of the new requirements is an immediate ban on events and activities including sporting events, concerts, festivals, and gatherings of 250 people or more in three counties, King, Pierce, and Snohomish.
Are schools closing?
At this time, the Governor has not mandated closing schools. However, he did signal school closure is a path we are headed down in the near future.
We believe given the information we received on modeling of the spread of this virus and the information we are receiving from state and local officials, we are at the point where we need to close our schools to support the effort to slow the spread of the COVID-19 disease in the community.
Marysville schools will remain open tomorrow, Thursday, March 12, to allow many families at least a little time to finalize planning for childcare options for an immediate and extended closure. Beginning Friday, March 13, all Marysville School District schools will be closed including all school building activities, school day instruction, preschool, health services, enrichment, and athletic programs. All schools will remain closed from March 13 to at least what was originally Spring Break, through April 12.
We will remain in contact with health officials and adjust the closure according to the information provided by state and local health authorities.
What guidance has been provided to school districts for school closure?
Governor Inslee provided guidance for districts to develop more detailed contingency plans around several issues:
Food Service:
First, we are working to plan around how we will continue food services for our students, so children will be able to pick up a lunch from our schools. We have done this at select schools over the summer months, so we have a model we can apply to potentially all of our schools.
Childcare for Health Workers:
The governor has asked school districts to consider how community schools might become a resource to help provide childcare for local healthcare professionals and first responders, if needed. Healthcare workers and first responders are prioritized to maintain appropriate staffing levels in hospitals, clinics, and other care facilities as the number of confirmed cases requiring medical intervention is likely to continue to increase.
What about online school?
At this time, the state is signaling there is no expectation for schools to transition to online school or continue to provide educational services during a closure. Online school poses unique challenges in every school district, including Marysville. In some ways, we are in a more fortunate position than some other districts. Our students in grades 6-12 have computing devices currently, and our students in K-5 regularly use computing technologies in their day to day work. Our immediate concerns include not furthering inequities in educational services for families who may not have access. These are issues we are exploring and attempting to mitigate as we move forward in our contingency planning. When we have more information on this issue, we will share it broadly on all communication channels.
What about employees of the school district when the district is closed?
School districts have been assured we will continue to receive apportionment, funding from the State. Governor Inslee has signaled as we move forward, the intent of the state is to minimize further impact to the economy and keep people employed and paid who work in our schools. Employees will continue to report to work but our work during an unprecedented closure like this will likely look a little different.
What if the school year is cut short or a closure persists beyond April 12?
The state has the ability to waive, and is indicating that is a likely outcome, both instructional hours and number of days for students. The governor has broad executive powers in these kinds of emergencies, and we expect graduation requirements to be addressed for seniors and other high school students. Additionally, mandatory state testing will obviously be disrupted by an extended closure.
Please watch for continued updates and read them carefully. We will continue to post updates as we gain new understanding of the situation, and we will continue to plan and adapt as new information becomes available.
This was not a decision made lightly, because many students and families depend on our schools for more than an education. Schools in our community serve a dual function. We are an educational service certainly, but we are also a fundamental social service providing care and comfort in uncertain times. Our work is important, and this decision weighs heavy on all of us.
One thing of which I'm certain, is my deep appreciation for each and every one of you. Your leadership, care, understanding, integrity, and commitment in difficult times makes me proud to be a part of this school district and community. We've been through challenging times before in our district and community, and this is certainly another one of those times. We are in this together, and we will get through this together.
Sincerely,
Jason Thompson
Superintendent