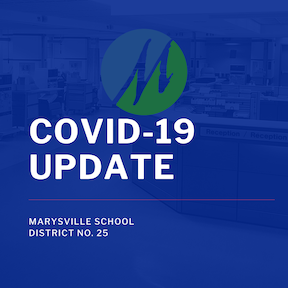 MSD COVID-19 Update, March 12, 2020
Marysville School District
Thursday, March 12, 2020
March 12, 2020
Espanõl haga clik aqui
UPDATE: Schools to Remain Closed through April 24
Dear Marysville School District Families and Staff,
Following the Governor's press conference earlier today, school districts in Snohomish County, including our district, are mandated to close schools by an emergency proclamation of the Governor.
Yesterday, our district took a proactive approach anticipating that this State mandate was coming soon and announced that schools would close beginning this Friday. We wanted to give our families and staff some lead time to prepare for the closure. Also yesterday, we communicated that schools would remain closed through April 12. This date has now been extended to April 24 per the Governor's mandate.
On Friday and into the following week, our staff will meet to develop plans on how we can best support our students, families, and staff during these unprecedented times. We will also meet with community partners to figure out ways that we can all work together in support of our students and families in the Marysville and Tulalip community to meet the requirements of the Governor's mandate.
We will continue to provide regular updates to keep you informed of the status of the nutritional, educational, and childcare services and support that we are preparing to provide.
I want to thank you for your understanding, patience, and support as we navigate these unchartered waters together.
Jason Thompson
Superintendent