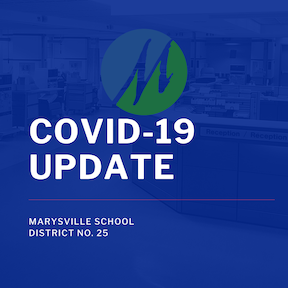 MSD Covid Update, March 23, 2020
Marysville School District
Monday, March 23, 2020
Covid Update, March 23, 2020
Espanõl haga clic aqui
Today we began delivery of meals all over the district, and for the first day, it went well. From transportation rerouting busses to areas where additional food service was needed to paras carrying heavy meal totes up the steps of the busses, people pitched in and made it work. We had 60 bus drivers and 52 paraeducators working together with food service staff today to get 3,642 nutritious meals into the hands of children across the district, all while maintaining social distancing like during the morning instructions given to drivers and paras.
Paras prepare to receive morning instructions for meal service
Drive through Chromebook distribution to elementary families occurred on Saturday too, along with providing school supplies and personal hygiene products to families who wanted them. Our families have been very appreciative of the efforts by staff and volunteers to get resources into the hands of our children. Staff and volunteers worked from 7:30 in the morning until afternoon, and the line of cars at one point wrapped all the way through the parking lot, down 80th, and well past Value Village on State Avenue. Families were patient and appreciative of the efforts, and the volunteers were tired but fulfilled in the service of others. We will have another opportunity for Chromebooks and supplies later this week. We have plenty of inventory, but we need a few days to prepare for distribution.
The stories of happiness and appreciation felt when families appreciate the meal served or the resources provided is heartwarming to say the least.
We love our students, and it feels good to provide whatever assistance we can. We continue to receive guidance from the state, and frankly, it changes almost daily the longer the closure continues. We have new guidelines around Special Education from the Federal government, and also some additional guidance on high school seniors. Staff is processing that information and adjusting plans accordingly. We will continue to adjust as the situation unfolds. We're all in the dark in some respects, but we will find the light together.
Plans are starting to fall into place around learning resources and enrichment activities to provide some form of "learning continuity," as it was described this afternoon in a conference call with OSPI. Keep monitoring district communication channels for more information. Take care of yourselves and your families. #We Are MSD, and we can do this together.
Warmly,
Jason Thompson
Superintendent
NOTE: Bus delivery meal service information and schedule, click HERE.