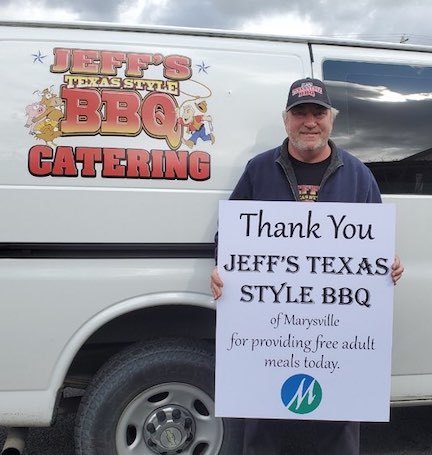 MSD COVID-19 Update, March 31, 2020
Marysville School District
Tuesday, March 31, 2020
COVID-19 Update, March 31, 2020
Espanõl haga clic AQUÌ
As the month of March comes to a close, I want to remind us all how lucky we are to be a part of the Marysville community. Not only are we providing learning support and engagement during these challenging times, we have also prepared and delivered thousands of meals over the past three weeks. In addition, we have some local businesses who are stepping up to serve our community. One local business has made a commitment to help provide meals for those adults who may be financially impacted by the economic realities of this pandemic. Jeff's Texas Style BBQ of Marysville is generously offering free adult meals at two schools each Tuesday and Thursday. Today, Jeff surprised parents and provided meals at Grove Elementary and Liberty Elementary. Thank you, Jeff! Read more about Jeff's outreach here http://www.msd25.org/article/223503?org=district
Remember next week (April 6-10) is our regularly scheduled Spring Break. It is important to note that our bus meal service will continue during this time. Please click on the link to view the schedule for each neighborhood area https://bit.ly/MSDMealServiceStarting tomorrow the Marysville School District will begin sharing data with the Office of the Superintendent of Public Instruction (OSPI). This data collection will focus on meals, child care, and learning opportunities. The data will help OSPI identify gaps and inform policy-making at the state level. My hope is that we will be able to share the results of this data collection later in April in order to highlight our work here in Marysville.
For those students or families who need Chromebook support, we have set up a Chromebook Support hotline you may call at (360) 965-0202 and a designated Chromebook support email address at chromebook-help@msvl.k12.wa.us.
As mentioned yesterday, families will be receiving or have received an email from "Little SIS", which is a syncing tool that connects Skyward information to Google Classrooms. This is a utility that creates and manages enrollment into Google Classrooms based on student's Skyward information. The tool also connects your parent / guardian email address with your student. Please accept the invitation when you receive it. This is a legitimate email.
This would also be a good time to log in to Skyward Family Access and verify and update your contact information including email addresses and phone numbers. You can learn more and log in to Family Access using this link: bit.ly/MSDFamilyAccess If parents/guardians do not know your log in information, email your child's school Office Manager or District Specialist Debbie Anderson (debbie_anderson@msd25.org). If you already have a username and have forgotten your password, you can request to reset your password on the log in page. If you email your school or Debbie to obtain log in information, include your full name, your child(s) full name, birthdate, and school(s) name in the request.
Another item of importance that seems to have gotten a little lost with our current world-wide situation, is the Census. Tomorrow, April 1, is Census count day. Responses to the Census drive decisions on the annual allocation of more than $675 billion in federal funds to states and communities, which includes support for school programs and services such as special education, free and reduced meals, class-size reduction, classroom technology, teacher training, after-school programs, early learning, head start, and more. Please take the time to count and report each member of your household.
Once again, thank you for your continued grace, patience, and understanding. We are doing our best to take care of each and every one of our students.
Sincerely,
Jason Thompson
Superintendent