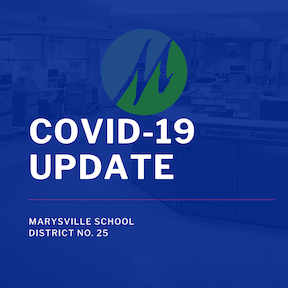 MSD COVID-19 Update, April 6, 2020
Marysville School District
Monday, April 06, 2020
COVID-19 Update, April 6, 2020
Espanõl haga clic AQUÌ
Dear Families, Staff, and Community Members,
Following Governor Inslee's press conference today, we want to reassure our entire community that our district has been and will continue to support students with nutritional meals, childcare services for first responders and healthcare workers, and learning enrichment, as we have at the very onset of COVID-19. A special thank you to our food service staff, paraeducators, bus drivers, and educators who have provided nutritious meals, Chromebook and supply distribution, assisted in preparing learning packets and resources, planning for distance learning opportunities, and check-ins with students and families to stay connected in meaningful ways.
In the days and weeks ahead, we will all be working together to try to get answers to your most pressing questions as we navigate through these unprecedented times. Please continue to monitor school and district websites, along with checking email to keep up to date with the most recent changes in information.
As we enter into the next phase which includes the Washington State Office of Superintendent of Public Instruction (OSPIs) emphasis to expand distance learning with students, we will continue to provide learning enrichment and resources as we move to more direct online instruction after spring break. As a reminder, we are adhering to the spring break schedule (April 6 - 10). The bus delivery of meals will continue during the break. Please click on the link to view the schedule for each neighborhood area https://bit.ly/MSDMealService
For those students or families who need Chromebook support, contact the Chromebook Support hotline: Call at (360) 965-0202 or email: chromebook-help@msvl.k12.wa.us.
As we look ahead, our goal is to connect all students to successful learning and we will continue to strive to meet that goal together.
Stay safe and healthy.
Jason Thompson
Superintendent