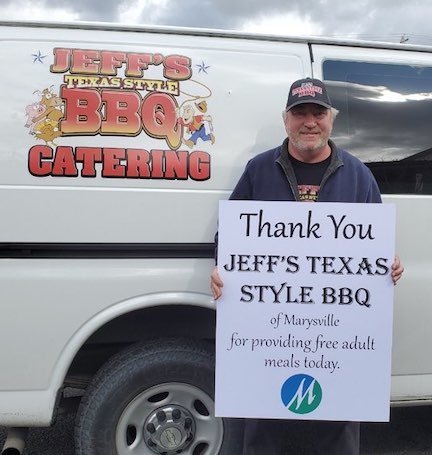 Thank you, Jeff's Texas Style BBQ!
Marysville School District
Tuesday, March 31, 2020
Parents at Liberty and Grove Elementary Schools got a special treat today from Jeff's Texas Style BBQ. As they brought their children for meal service, Jeff provided a free lunch to the parents and guardians.
Jeff was looking for a way to help out the community and reached out to see how his restaurant could make a difference. According to the restaurant's website (https://www.jeffstexasstylebbq.com/), every Tuesday and Thursday, starting today, he will provide free meals to the adults who bring their children for their Marysville School District supplied meal. He will rotate school locations throughout the district on those days.
While the children enjoyed getting their meal today, the adults did too. Thank you, Jeff and staff for supporting our families in this way!
#WeAreMSD #WeAreCommunity