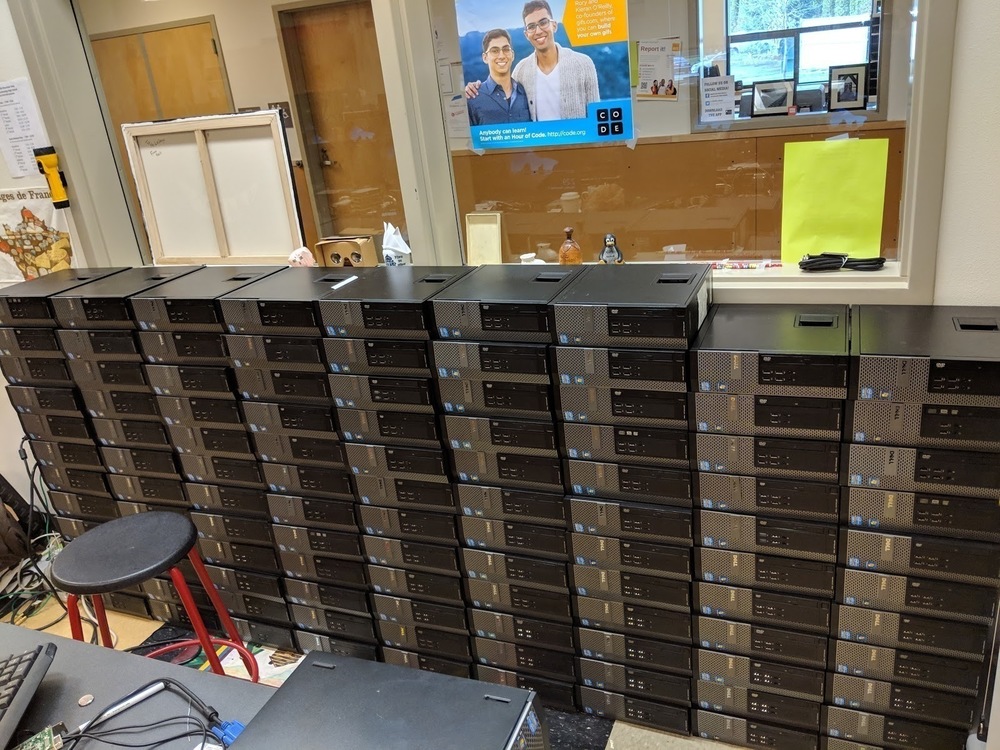 Students Learn Technology Through Service
Paul LaGrange - Computer Repair Lab Teacher
Thursday, November 15, 2018
Marysville- What began as a short term summer project, in 2011, to repair twelve One Laptop Per Child laptops is now in its seventh year as a full Career and Technical Education (CTE) computer repair lab with service and global outreach focuses.
Its Wednesday morning and the computer repair lab students of Marysville Mountain View Arts and Technology are busy unloading a generous donation of surplussed computers received from a local healthcare provider. These systems will be diagnosed and refurbished to be put back into use. Students are learning valuable technology skills, community involvement, and participation in global service.
The current project is a continuing partnership with Ghana Together to send 110 computers to Axim Ghana. There, the repair lab is providing support for outfitting a new library and several school computer labs. Maryanne Ward of Ghana Together says, "This has been a wonderful relationship going back a few years, when earlier students refurbished dozens of One Laptop Per Child computers for us. They are still being used daily in the Axim Public Library….thanks to all students. What a wonderful program!!"
In its existence, lab students have sent almost 900 computers to non profit partners across the world. Globally, their computer serve in: schools in Ghana; Liberia; Guatemala; a Syrian refugee camp in Jordan; and orphanages in Haiti. Locally, students have provided computers to: Housing Hope; Disabled American Veterans; and several local schools /preschools. Beyond this, the students have: performed thousands of free repairs for community members; provided technology training to senior citizens; and have sold refurbished computers to purchase tools and hardware to fix up more computers..
If you are considering upgrading a home computer or changing out business systems, please consider donating them to our program.
To learn more please contact us at:
Marysville Mountain View Arts & Technology High School
ATTN: Paul LaGrange 7204 27th Ave NE, Marysville, WA 98271
(360) 965-3036 paul_lagrange@msvl.k12.wa.us