EDIT MAIN
Citizens Advisory Committee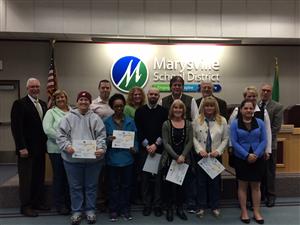 The Citizens Advisory Committee was created to advise the Marysville
Superintendent and School Board on the feasibility of a future school district bond measure. The committee was comprised of about 40 parents and community members and was facilitated by an outside facilitator.
The committee held their first meeting on April 21, 2015 at Grove Elementary School. They researched and learned about the schools, asked questions, participated in discussions, and toured various school locations across the district.
In November 2015, the Citizens Advisory Committee developed two possible project lists. The lists were then compared and contrasted by the community through the
Thoughtexchange process. That feedback and input assisted the Committee in deciding on a recommendation to present to the Marysville School Board.
Click HERE to review the results of the Community Thoughtexchange.
---
Committee Materials
Release: Marysville School District seeks members for bond feasibility study committee
CAC Membership
State of the Marysville School District Facilities
Construction Assistance Program Presentation
Bond Rates Presentation
---
Meetings and Agendas
April 21, 2015 | Grove Elementary School
May 5, 2015 | Cascade Elementary School
May 19, 2015 | Marysville Middle School
June 2, 2015 | Marysville-Pilchuck High School
June 9, 2015 | Marysville Getchell High School Campus
September 15, 2015 | Liberty Elementary School
September 22, 2015 | Service Center Board Room
October 6, 2015 | Service Center Board Room
December 9, 2015 | Service Center Board Room
January 19, 2016 | Service Center Board Room