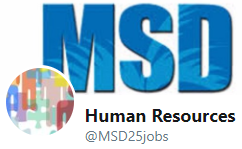 Human Resources recognizes every employee can achieve the highest level of success. Our goal is to provide great customer service through the recruitment, hiring, and retention of qualified staff.
Marysville School District is an Equal Opportunity Employer
Marysville School District complies with all federal and Washington State rules and regulations and will provide equal employment opportunity and treatment for all applicants and staff in recruitment, hiring, retention, assignment, transfer, promotion, and training. Such equal employment opportunity will be provided without discrimination with respect to race, creed, national origin, age, honorably discharged veteran or military status, sex, sexual orientation including gender expression or identity, marital status, the presence of any sensory, mental or physical disability or the use of a trained dog guide or service animal by a person with a disability. The district will provide equal access to school facilities to the Boy Scouts of America and all other designated youth groups listed in Title 36 of the United States Code as a patriotic society.

The following employees have been designated to address questions and complaints of alleged discrimination: Civil Rights Coordinator - Gregg Kuehn, Risk Management Supervisor, 360-965-0110; Title IX Officer – Tracy Souza, Director, 360-965-0076; Section 504 Coordinator, Trish Campbell, Executive Director of Special Education, 360-965-0174; ADA Coordinator –Trish Campbell, Executive Director of Special Education, 360-965-0174.
BEST Teacher Mentor Program
The Marysville School District is proud to have a mentor program for new teachers. Through this program following the BEST grant model (Beginning Educator Support Team) from OSPI, our new educators are mentored throughout the year and have continuous professional development to help them to continue to learn and grow. Brynn Marcum, Director of Curriculum and Assessment, leads the program along with Lisa Sofie, Curriculum TOSA and BEST Facilitator, and mentor teachers Cathy Davis and DeAnn May. In the video, Brynn shares information about a recent training for our educators to learn about the rich history and culture of The Tulalip Tribes and the Coast Salish people.