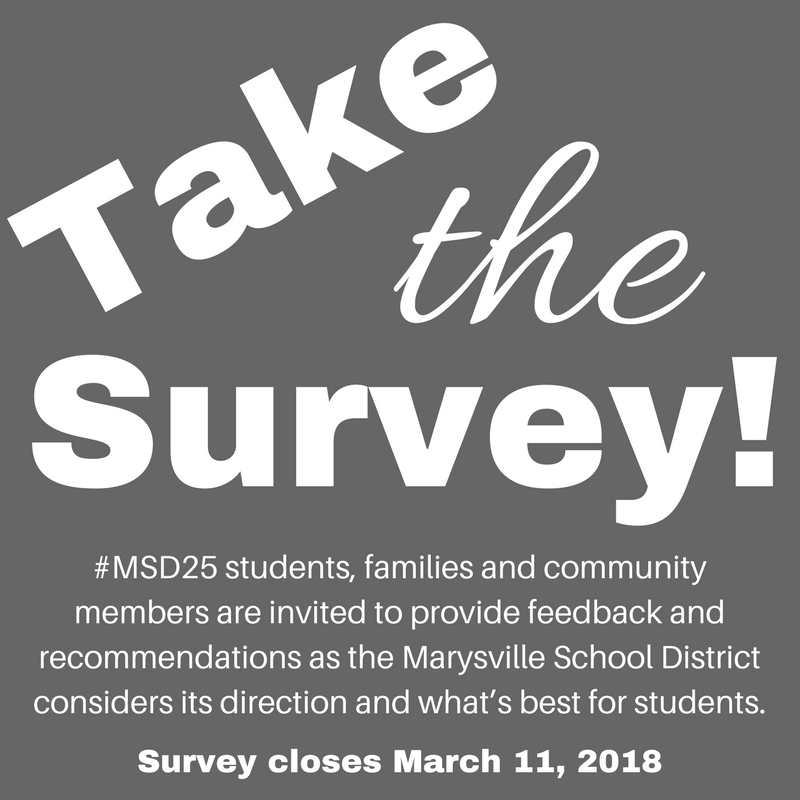 Marysville School District Issues Survey
Marysville School District
Tuesday, March 06, 2018
Marysville School District asks parents, students, community and staff to take short survey about district's direction
The Marysville School District (MSD) is asking community members and MSD families, students and staff to complete an online survey regarding student success, the District's goals and strategic directions, open choice high schools and how the District can communicate better.
"Community, parent and staff input is integral to charting MSD's course, and this survey is one of many tools we're using to hear from our community," said Jason Thompson, Acting Superintendent. "The entire community has a vested interest in the success of each student. When our students succeed, Marysville succeeds."
The online survey provides parents, students, district staff, and those who live and work in Marysville an opportunity to shape the future of our schools.
The survey should take 8-10 minutes to complete and will close on March 11, 2018. All responses will be confidential.
The survey can be found here: https://tinyurl.com/MSDSurvey2...
"I am eager to hear from our parents, staff and community about their vision for the future of Marysville Schools," Thompson said. "Opinions on the road we take may vary but I think we all want the Marysville School District to be a community anchor that positions our students for a successful future."
The District will use the information to refine its strategic directions and help guide future decisions. For updates on this work, visit: https://www.msd25.org/o/District/page/secondary-schools-planning-2017-18